Affordable Advantage - Zero Down Payment Loan
Can't Save the 3.5% for an FHA Loan? Can You Save ZERO?

It's back and in style, the true Minneapolis and St Paul MN zero down payment program. For a few years now, the most minimum down payment you can do is 3.5% with FHA. And FHA has had its fair share of hurdles, from appraisal issues to a pretty major upfront mortgage insurance premium that you finance over the term of your loan. I am not bashing FHA. It's a great program. I am here to say that there just may be a better one now!

Thanks to MN Housing putting their collective brains together with US Bank, we have Affordable Advantage ! CONVENTIONAL alternative to FHA and one that will benefit you way more! It is true; minimum down is available on a conventional loan which is 3% down. Big downside – private mortgage insurance is WAY higher than a FHA loan which would normally make FHA a better option for most. Now it doesn't have to be that way. Check out the difference between FHA and the new zero-down conventional financing in this scenario
: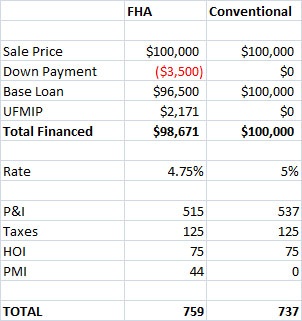 Okay, so the difference isn't eye-popping, BUT, your payment IS lower, out-of-pocket for down payment IS lower and you could actually bump up your buying power by about $4000. And yes, this WILL make a difference. So what's the skinny on this new, better-than-sliced-bread program? See below!

• You...